Portfolio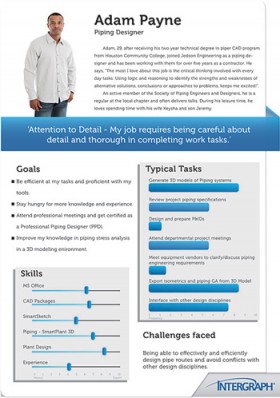 Smart™ 3D user personas
User Research Goal There was a need to facilitate better user centered conversations among internal developers and designers at Intergraph.
Methodology Personas were the first step to create a representation of end users and evangelize user centered thinking. The project was kick started by interviewing key stakeholders including Product Owners, Support and Quality Assurance. This was followed by online research for job descriptions of our end user persona to create an initial draft. These personas were further verified and validated with interviews and focus groups during contextual inquiry at customer sites.


Results One primary persona and two secondary personas resulted from this exercise. The personas have since then been used by both designers and developers alike in design conversations encouraging focus on user centered design.
Role
Define research questions
Create research plan and data analysis
back to portfolio