Portfolio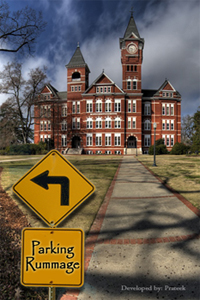 Parking Rummage
Challenge Design, develop and test an iPhone app to resolve parking space chaos in Auburn University, by locating the nearest empty parking lot based on real-time data.
Process
Field observations were undertaken to capture current user behaviors and user personas, followed by user interviews. Initial research lead to scenarios and workflow diagrams. We then tested paper prototypes of our design ideas. See report on Personas and Workflows.
Results
The app was well received by all participants. However, three usability issues were recommended as "top priority" fixes before the app could be published.
This app was featured in the fall edition of Auburn Engineering Alumni Magazine. See Usability Evaluation Report.
Methodologies
User Research – interviews & observations
Paper prototype testing
Summative usability testing
Role
Lead Design and Research initiative on a three member team
back to portfolio